Dining room staging could go a number of different ways, just like staging any part of a home.
To help you navigate this sea of options, we've outlined the core elements of a good dining room design so you can grasp the key concepts before putting them to use!
Here are a few ideas on how to decorate your dining room and make it ready to receive all the buyers on the look for a new place to live!
Pick A Good Dining Set
Nothing spells out "cheap" louder than a mismatching dining set in the kitchen or dining room, or a set composed of old and cracked pieces. So this should be a number one concern right from the start during the staging process.
It is usually a good idea to stick to neutral colours when it comes to the crockery and china (especially whites and beiges, but, sometimes, darker tones like black can work, depending on the general style of the room), but there's a bit more space for boldness when picking the cutlery. The metallic charm of gold tones can help you bring some extra elegance to the table.
Cluttering: Your Worst Enemy
Decluttering is probably the number one tenet of home staging. You can even use one item or another from the previous owner in your design but it should be done very carefully.
Afterall, the main goal in staging should be to create a somewhat blank canvas – a frame to help potential buyers visualise their own life in that space, not someone else's.
But declutter doesn't mean sterilise. Your dining room can't feel like a hospital cafe. The challenge lies in finding the perfect balance between ready to occupy and occupied. Buyers should feel like they could move in right away and live there with only a few tweaks, not like they're entering someone else's home and invading their privacy and space.
Use Art To Make The Dining Room Shine
Art is one of our greatest allies to bring out the full potential of a home. It's a mistake to think that buyers are only interested in seeing a home under a mere practical light – that's a mistake that can often cause a place to feel soulless and utterly uninteresting.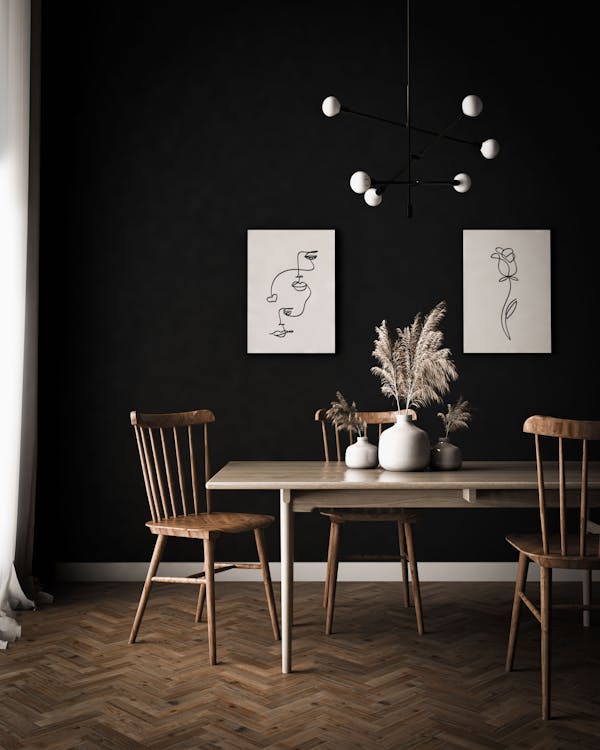 You could either accomplish this by selecting paintings and pictures to match the general aesthetic of the dining room or by purposefully decorating the dining room table, matching the decor to the dining set.
Find A Style To Match The Home's Personality
It can be pretty hard to navigate dining room designs and finding the right one to the home you're staging if you don't have in mind an overarching style for the entire project.
It's OK for individual rooms to be presented in slightly different styles – provided there's a cohesion to them, a unifying theme.
Modern Dining Room
This style might not suit every home or family since it often lacks the sense of tradition incorporated in other styles – but it can be a great match when staging with a younger and cosmopolitan demographic in mind.
Some key features you might find in this particular style are the redefining of some design elements and a clever and almost playful use of somewhat unusual shapes and textures – without giving up a strong sense of cohesiveness and some formality.
The minimalist and uncluttered principles that guide the modern style usually make it a good choice when staging smaller homes and condos, especially in urban areas.
Traditional Dining Room
Hardly any style can turn a house into a family home better than this one. It essentially consists of using the dining room furniture in a way to create an intimate and cosy environment. The whole concept is about creating a space fitting for a family to talk and spend time together.
Some key aspects to note in a traditional dining room is the use of darker tones to create a calming and welcoming atmosphere. Usually, we're talking about enclosed spaces with carefully picked furniture and décor – the main feature should be the table where family interaction will happen.
Flowers and cabinets are a good option to create a "homey" atmosphere in the dining room.
Formal Dining Room
Having a true formal dining room is something rather rare nowadays. With living spaces becoming smaller and more urban, it is not so common anymore to have a large space for social gatherings centred around a meal.
Regardless, it's a style that can greatly complement the space of larger homes and is also a way of being prepared for the most varied of necessities when staging.
This style usually consists of matching sets all over the room. From walls to furniture to crockery and cutlery, there's a strong cohesiveness throughout the space which is very adequate for formal and high-end gatherings.
They are often designed in a strong classical and traditional style, but that's rather a legacy of time than a necessity.
Cottage Dining Room
Not quite as intimate as the Traditional style and not quite as ornate as the Formal style, a cottage-like dining room is a good mix of social and private space. It should be conceived as both a place for family interaction and larger gatherings, where people can feel comfortable lingering and enjoying each other's company.
It's not uncommon to find unique and repurposed pieces in this style rather than matching sets. You may find chairs of varying patterns and materials or a very colourful dining table, with a rich variety of cutlery and crockery.
The overall combination gives each space a strong personality and individual cosiness, combined with an open and airy feel. Flowers, plants and other natural elements are a perfect way to decorate a cottage dining room.
Use Lighting To Draw Attention
Most social and family gatherings around the dining table nowadays will probably take place at night. To draw in attention to the meal and the table, as well as facilitate eating, most dining rooms designs includes a lamp or ceiling light over the table as the main lighting source.
One way to use this to your advantage when staging is by placing a centrepiece right under the light source and organising other table decorations and tableware outward from it.
You could add other lamps and secondary light sources to highlight specific details or decorations, like a unique painting or a special vase, but make sure to create a clear hierarchy of lighting.
The dining table should always be the focal and most illuminated point, dominating over any other element.
If you're a realtor or a homeowner and feel lost facing the daunting task of properly staging a home, we can help you!
Our team has years of experience and a vast knowledge on different styles, trends and demographics, we're ready to turn your home into any buyer's dream home. Contact us today and let's get started!
5 Features of True High-End Staging
Custom Furniture and Decoration
Smaller and more economical homes truly might achieve their potential through a staging made only with your everyday standard pieces. When it comes to high-end properties, however, the stakes – and, consequently, the bar are set way higher for that.
Luxury properties will often attract qualified buyers, with a more trained eye and acute aesthetic sense. No furniture or decoration can feel displaced, unfitting or generic. When dealing with properties that, in and out themselves, already have a huge value and many attractive perks, staging can never dim down their glow.
To properly provide design and staging solutions up to the standards of these properties, there is often the need to turn to custom-made pieces. The eventual rise in the staging cost is paid off by a usual rise in offers and by the fact that the property is usually sold along with the furniture and decoration used, also driving the selling price up.
Telling A Story
It is impossible to account for every profile of the people who visit a home when staging. Trying to create an environment that appeals to every single person might result in a home that feels generic.
So what's the solution? Intelligent staging. There should always be a previous research on the prevailing demographics on the neighbourhood to determine the most likely profiles of buyers and stage with that information in mind.
Once we know who we're staging for, the storytelling process begins. We're not only showcasing a house, but an entire living style. Every room is a chapter of the living story we're telling – as well as an opportunity to show buyers the life they can have in that home.
Showcasing All The Space
Dealing with a luxury property often means dealing with large spaces. Spacious rooms, high ceilings and transitional spaces – elements not always present when staging smaller properties.
Rather than a problem to be "solved" or hidden, this should be approached as a key design element to be highlighted in staging.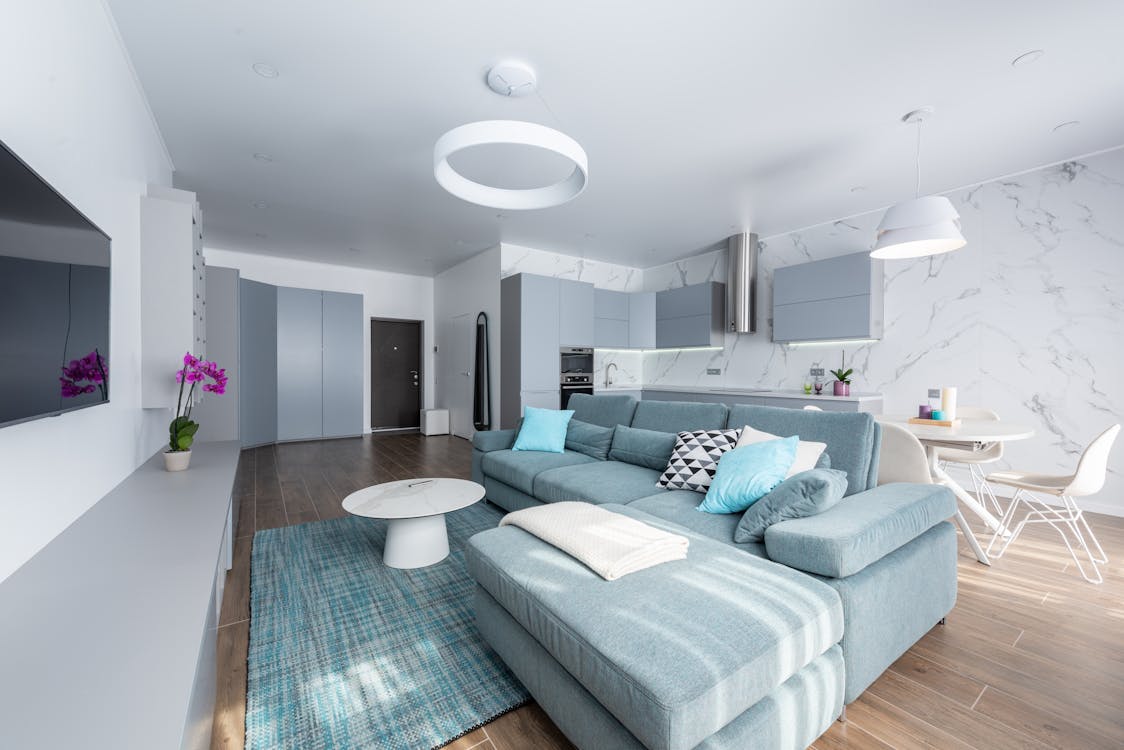 Here are some elements to highlight all the grandeur and size of a large home:
Large, low-profile furniture
Floor-to-ceiling drapes
Panoramic windows
Divide the space up by usage
Caring For Every Detail
Details are important and shouldn't be overlooked even in the simplest staging project. But it is in contrast with the most luxurious properties and designs that little mistakes make the most damage.
These are some minor mistakes you should look out for not to hurt all the work you've put on your staging project so far:
Using too many small items
Not keeping photography angles in mind
Not changing worn pieces and hardware
Multiple focal points in a room
Hang art pieces according to scale (up to ⅔ to ¾ of the wall)
Investing In Luxury Staging
It should be clear by now that even if you own a true dream castle of a home in the most sought-after neighbourhood, it takes way more than naked rooms and a generic staging to turn it into a true masterpiece that'll have buyers flocking in.
Rather than another cost, staging should be seen as an investment on selling your home as fast and more profitable as possible. There's no right answer, but we usually recommend investing at least 1% of your home's value in staging.
If you want to make every last penny you put into staging count, you should look for an experienced design team specialised in handling high-end projects and providing innovative and elegant solutions.
Our team has years of experience and a vast knowledge on different styles, trends and demographics, we're ready to turn your home into any buyer's dream home. Contact us today and let's get started!